Under the traffic light system....(click).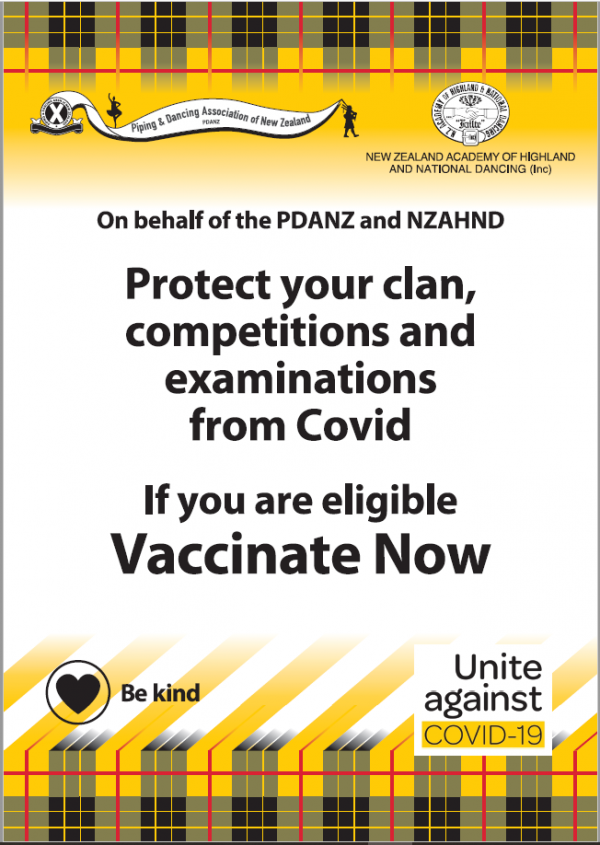 Under the traffic light system....

Vaccination Certificate Requirements for Piping and Dancing Association Events 
Background: 
New Zealand's Covid-19 Protection Framework will change to the "Traffic Light" system for designated regions once all District Health Boards within that region reach the 90% Fully Vaccinated target.
For the Auckland region this target is likely to be reached by December 2021.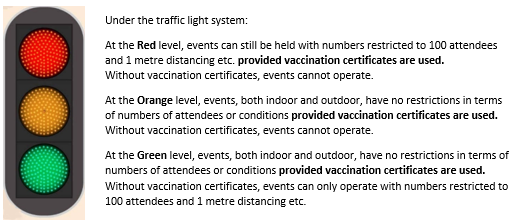 What does this mean for Piping and Dancing Competitions?
To allow our competitions to proceed without disruption, all attendees eligible for vaccination must have a vaccination certificate to be admitted to the venue. This includes all competitors, judges, pipers, organising committees, spectators etc. Societies will need to include this condition on their competition schedules, and this will become a condition of the Centre permitting process. Societies will also need to arrange for vaccination certificates to be checked as people arrive at the venue. 
In Short: 
To ensure participation/attendance in upcoming competitions, all eligible Piping and Dancing Association members (all those 12 years and over) must be vaccinated and have a vaccination certificate. 
If you are not yet vaccinated, PLEASE GET VACCINATED NOW so you can continue to participate.
---
Piping and Dancing Association of New Zealand (Inc.).
Established in 1908, the Piping and Dancing Association is the governing body in New Zealand for Highland and National Dancing, and Solo Piping competitions. Our membership includes dancers, pipers, and teachers and judges of both piping and dancing, along with administrators and supporters. Competitions are conducted under the auspices of the Piping and Dancing Association throughout New Zealand, from Waipu in the north to Invercargill in the south.
The Piping and Dancing Association welcomes new members and, upon registration, our competitions are open to all pipers and dancers both within New Zealand and overseas.
To find out what is happening near you click on the Centre map to the right or check the Competition Event Calendar.
Our new website is currently under construction, with additional content and photos being progressively added. So, if you can't find what you are looking check back in or email pipinganddancing@xtra.co.nz
Visit your Centre